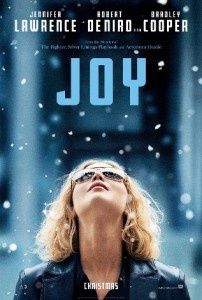 "I feel like people are going to want to climb mountains after seeing this movie."
That's what Joy Mangano is quoted as saying about the new movie Joy starring Jennifer Lawrence, and I couldn't agree with her more.
This movie made mewant to climb mountains.
But that's not because it's just another rags-to-riches, American dream story.  This dream has real nightmares woven in.
In case you haven't watched QVC or HSN in the last 30 years, Joy Mangano is the inventor of such wildly popular gadgets as The Miracle Mop and Huggable Hangers.  This home shopping phenom holds over 100 patents and reportedly has a net worth of around $50 million.  But she didn't achieve her success overnight, nor did she do it without struggles.
Actually, "struggles" is a mild word for the kind of adversity Joy went through: crushing poverty, a broken marriage, family dysfunction, bitter sibling rivalry, the death of beloved mentors, second mortgages, huge financial losses, tremendous debt, looming bankruptcy, lawsuits among friends and family, incompetent lawyers, kooky angel investors, business partner betrayal, shakedowns by vendors…
And fear.  The kind of paralyzing fear that prevents you from making important decisions until the last possible moment; decisions you would never have dreamed you'd face or be capable of making.
Watching the movie, I sort of suffered with her.  I could feel everything Joy must have felt in her situation because I've been in similar shoes, and that's what I find so compelling about this film.
unremarkable it really is.
While some of the details depicted in this biopic aren't entirely factual (Joy's mean half-sister is completely fictional, for instance), the story is still 100% realistic.  I know because I've seen every one of these situations – and worse – innumerable times during my career as a business advisor.  If I haven't experienced it first-hand in building one of my own businesses, I've stood by my clients and friends as they did, and that's my point.
Every client I've ever worked with has asked me, "Am I the only one who has these kinds of problems?" and the answer has always been a resounding "No!"
We can't all be the queen of home shopping and reign over a multi-million dollar empire.  But whatever kind of business we endeavor to build, we will encounter the same problems. We can only build the life we dream of if we have the determination and courage to persevere.
If you're building a business - and especially if you're discouraged about it - you need to see this movie.  If you're even thinking about starting a business someday, you need to see this movie, too.  The path of an entrepreneur is not lined with primroses.  This film shows that reality.  But the reward for staying the course is more than worth it, and Joy shows that, too.  See it before it leaves the theaters.

Official Trailer for Joy
"Miracle Mops to Movie Stars: Joy Mangano dishes on Joy" – Tulsa World, Dec. 29, 2015
"The True Story Behind the Movie Joy" – Time Magazine, Dec. 27, 2015