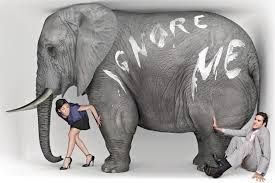 From time to time, I coach a leadership team that is in turmoil because of some deep conflict.  Usually, there are two or more individuals who have lost trust in one another and are engaged emotional and heated arguments, sometimes openly, but often in less obvious ways, engaged in passive-aggressive hostility with behind-the-scenes conflict.
While it is painful, it is my job to help bring these situations out into the open and resolve the conflict.  Not to address it would be to allow an illness to fester, and I am bound to help my clients do what it takes to build a healthy workplace because dysfunction and success cannot co-exist.
Let me draw a parallel from the Bible.  Almost everyone knows the 13th Chapter of 1 Corinthians in which St. Paul explains the nature of love.  Passages from this chapter are read frequently at weddings to remind bride and groom of what love is, and what it is not.
"If I speak in the tongues of men or of angels, but do not have love, I am only a resounding gong or a clanging cymbal. 2 If I have the gift of prophecy and can fathom all mysteries and all knowledge, and if I have a faith that can move mountains, but do not have love, I am nothing. 3 If I give all I possess to the poor and give over my body to hardship that I may boast, but do not have love, I gain nothing."
In short, possessing the virtues of faith and hope is good and necessary, but in the end, having these without love renders them fruitless.  The Chapter concludes:
"And now these three remain: faith, hope, and love.  But the greatest of these is love."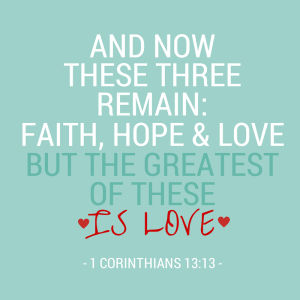 It's the same in business, especially if you're using EOS, where our three necessary "virtues" are Vision, Traction, and Healthy.  You can have all the Vision in the world, and you can be using the tools that provide Traction, but if you don't have Healthy team relationships, then everything else is useless.  It will all come to nothing.
This is most especially true if you, as your company's leader, are involved in the conflict.  You can preach Vision and Traction around the clock, but if you are not doing Healthy, you are just a clanging cymbal to the rest of your team.
If you are tolerating – or involved in – dysfunction on your team, here are three things you should know:
1) You're kidding yourself if you think you've got the problem hidden.  If there is a problem between members of your team – especially if it involves you – you may think you can hide it, but there is no way you can.  Believe me, everybody knows about it, and they are talking about it when you're not around.
2) You're kidding yourself if you think you can just tell everybody to keep working and ignore the problem.  People can't function with an elephant in the room.  See?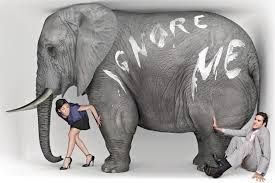 3)  You are throwing away all the resources and hard work you've put into moving your company forward. Instead of getting better, you're getting nowhere.  Because people know about what's going on, they are holding back channel conversations about it, perhaps choosing sides, and crafting work-arounds.  If it isn't being spent on gossip, energy that should be spent on maintaining the Traction that will achieve your Vision is being expended just to keep the team afloat.  What a colossal waste of resources!  You're also sending your team the message that you aren't really serious about all this "healthy" stuff you preach because you aren't living it out.  And if you're not serious about it, why should anyone else be?
Your team can't all be rowing in the same direction if some are bickering and others are busy bailing water and plugging the leaks your toxic relationship is causing. 
Keep it up, and you'll lose your boat.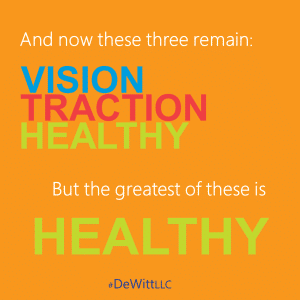 And now these three remain: Vision, Traction, and Healthy.  But the greatest of these is Healthy.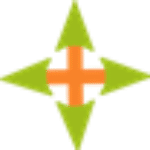 Here are a few good articles on how to resolve workplace conflict I've recently shared with clients:
"Three Steps to Confronting a Co-Worker (That Don't Involve Either of You Crying)," Forbes
  You'll have to work to get past the ads.
"Confronting an Employee over Email - 5 Tips for Doing it Right"
Note Tip #1: "Don't resort to email unless you have to."
"Five Times You Should Avoid Confronting a Co-Worker"
"How to Repair a Damaged Professional Relationship,"Harvard Business Review